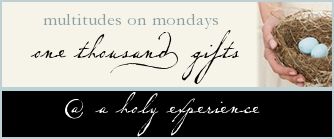 Happy Monday, friends!
I had a great weekend. A girl I taught in pre-school, elementary and high school sunday school classes got married on Saturday. I had the pleasure of buying my dad's lunch on Father's Day. I got a nap on Sunday afternoon and spent an hour playing Just Dance 2 on the Wii with my mom. We are hilarious. There will be no video proving said hilarity, so just take my word for it. We are. Here is my list of things this weekend I am giving thanks for today.
8. Dancing with my mom. We are two very uncoordinated, uncool people, but we have a blast, so who cares what we look like?
9. Afternoon naps. I don't get them often, but when I do? Bliss!
10. Summer fruit. Watermelon, Peaches, Plums. One great thing about summer is all the yummy fruit!
11. The look on a bride's face as she's walking down the aisle to her groom. How she beams and everyone in attendance gets to take part in her joy.
12. Strong arms and legs that can do hard work like helping my dad lift heavy furniture or mow our lawn. And knowing I can be of use to my parents when they need me because I am able-bodied.
13. Soft chewy ice on hot summer days.
14. Frozen grapes. My new obsession. I don't know how I've made through any other summer without them.
15. The pictures of my parents and grandparents when they were young. I love seeing a bit of myself in them, seeing a bit of history before I was born, connecting their young faces to the stories I've heard them tell. Being a part of their legacy.